Oh my gosh! You know what? There are a handful of garment pattern designers that I LOVE, love their look, and if I'm boing honest, Shelly Figueroa of Figgy's was my first crush. If my girl (or boy) had been little when I learned about Shelly's work you can bet she would have been dressed in all of the funky goodness as long as she would have gone along with it. So one market, I think Portland, somehow there was some social media *conversation about meeting Shelly (*the details escape me at this point), and I was all like, "What? How in the world does Shelly Figueroa even know I exist! Rocking awesome!" Then we missed each other somehow and I was so sad. So, then, when Shelley emailed about being a part of her tour to show off her new super pattern group, the 'Heavenly Collection' I though, ahh, no, I can't, too much going on, and my policy is to say no, no, no for the next few months, but you know what? I couldn't because I have adored Shelly and her style and look too long to miss out!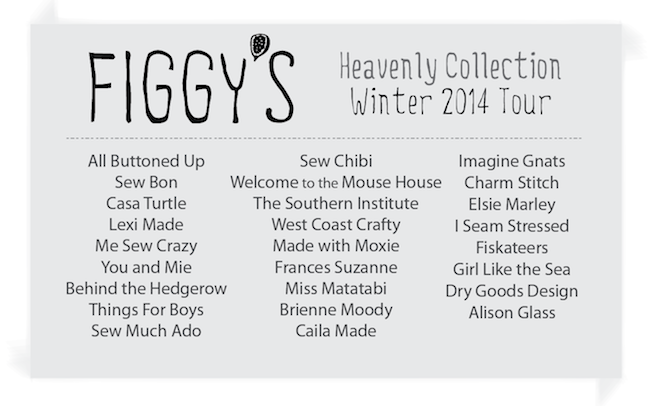 So, here we are! I asked Shelly for a copy of her Celestial Maxi Skirt pattern because, well, I love skirts, and if I'm being totally honest, I knew it would be a pretty easy sew that I could do in knit and PROBABLY get to fit the size of my model, even though it is for smaller girls. See, Anna is pretty much grown, I know, weird. I think, if I would agree to measure, we would find that she is a tiny bit taller than me, but I'll live in denial a bit longer. Isn't she a doll!?! Anyway, this is the sort of skirt design both she and I love, as long as I kept it simple enough, and look, so cute right? Ummm, there may be a chance you will see me in this skirt at the next Quilt Market, so comfortable and darling! And talk about easy to put together! The work is all in the cutting, after that you are home free! So, the Celestial skirt to fit my girl was no problem, just made it longer, by well, a lot, but you know, it works out!
Then, because I love stitching and I can't leave it alone, I pulled a fun grouping of size 5 Week's Dye Works Perle Cottons and stitched away. I would love to add more, and probably will. What an easy and fun way to add more to a simple piece. Shelly has a really great giveaway for a bunch of cool stuff, including some of my fabric (!), that is only open for another day or so. See below to enter via rafflecopter for a chance to win her super prize haul! Shelly, thank you for the opportunity to play along, all the best wishes to you, and I'm still looking forward to meeting in person, hopefully soon! P.S. You can buy Shelly's fabric here: Figgy's Patterns!